Do your research!
Cyber-stalking the company you want to work for is a great way to get ahead in an interview. Take a look at any Quarterly Reports you can find, their website, social media accounts and any blogs they have to get a feel for the type of company they are and what values they have.
This way you can get a picture of the type of person they want to have working for them and how you'd fit in. You'll also be able to answer any questions about the company that they throw at you!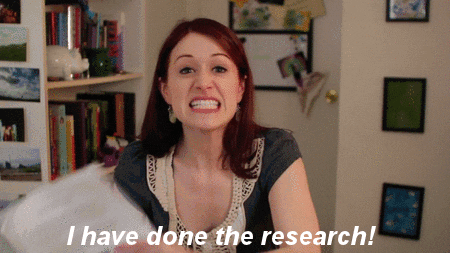 Okay, so you like to take part in some shenanigans on the weekend and have some classic banter with your mates on Facebook – we all do. But sometimes what we put on the internet doesn't reflect on us too well. Before your interview make sure to take down any inappropriate photos or comments that may not present your best self.
Trust me, they'll be looking.
Draft and practice answers to common interview questions
No interview is complete without the classic "why do you want to work for us?" so prepare an answer other than "I need money". Some other common questions could be:
Tell us about yourself
What would you consider your biggest strengths and weaknesses to be?
What did you like and/or dislike about your current/previous job?
What do you know about our company?
How much do you think this position pays?
Before your interview, prepare a few answers that focus on your positive attributes and experiences. No matter the question though, try to avoid rambling and only address the key criteria.
Dress appropriately
Before you even speak, your outfit has already made an impression on your interviewer. There's no answer to "what should I wear?" that covers all professions, because what you'd wear to an interview for a fashion magazine vs what you would wear to an interview for a legal position would be very different. Our best advice? Research the culture of the company and, more generally, what is expected in the field you are going to be working in.
When in doubt, call the company's HR or customer service department and ask what you should wear.
Be confident
This may the hardest advice to take because getting nervous before an interview is like a default setting. Just remember that you want your interviewer to think you're cool, calm and collected so you've just gotta fake it til you make it. Keep positive, smile and find your confidence before stepping into the room.
Ask questions
After your interviewer has finished asking their questions, they'll often ask you if you want to ask anything. You should definitely take them up on their offer and ask something insightful about the company or the role. This shows that you have forethought and that you were actually listening to what they were saying.
After the interview…

Send a follow up email
Take the time to send an email to your interviewer/recruiter to thank them for their time. This is also a good opportunity to reiterate your enthusiasm about the job and make a lasting impression on the recruiter.
Ask for feedback
Not every job interview is successful but even if you don't get the job, just think of the interview as more practical experience and ask for feedback. There are heaps of reasons that companies don't hire people and by asking for feedback, you can improve for next time.
Be patient
Sometimes looking for a job is time-consuming and disappointing, but don't be discouraged. Be patient and keep trying – you'll find the perfect place for you!